TOPAZ Light Sport Aircraft
Absolutely superb factory built light sport aircraft. Fast, quiet, efficient, light on the controls and very comfortable. The actual aircraft is in the photo above, in flight near the Macedon Ranges north west of Melbourne.

All the great Topaz features, 17:1 glide angle, exceptional climb rate (we estimate double that of an equivalent Jabiru) comfort cruise of 110kts, wide cockpit with central armrest, tinted windows, leather seats, custom long life and good looking paint with executive trim (no gel coat), low fuel consumption.

Reliable Rotax 4 stroke 80hp engine, parachute container with exit panel fitted (and an aircraft parachute system available as an option), Dynon electronic instrument display (EFIS with a remote compass and of course an artificial horizon) plus an analogue ASI and Altimeter, Garmin panel mount GPS with moving map, ICOM A200 aircraft radio, seperate intercom with squelch, tail strobe, wingtip lights and landing light fitted; electric flaps and electric trim fitted - all controlled on the joy stick - superb! 2 baggage compartments behind the seats with up to 20kg each cargo capability, wheel fairings.

This is our factory demonstrator Topaz, so far only 200 hours so she looks new. If you are serious about you flying and want the best this aircraft is seriously worth considering. Our demonstrator with very low hours, best serious offer, ask, you will save a bucket load of $$$'s!!


Test flights welcome at our flying school, if you are serious about purchasing a light aircraft, $285 to cover our costs (refundable of course if you decide to purchase).


See the TOPAZ 80hp in flight here

AirSports Flying School
mail@goflying.com.au 0422 446622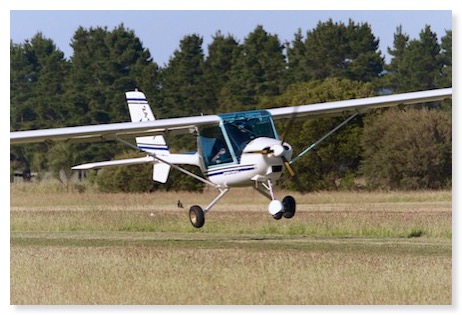 STORCH - HS
A really nice little aircraft, the STORCH HS (High Speed), a great performer, think of a helicopter with wings - a great little bush aircraft.

Good short field performer, excellent climb rate capability (at least 50% better than equivalent Jabiru powered aircraft) Twin seats (yes, adjustable), superb visibility in all directions with a see through "blue tint" roof, see through doors and windscreen, dual controls, hydraulic brakes, nose wheel steering, ICOM A200 aircraft radio (with dual com), twin Pilot headsets with super VOX intercom, optional stall warning fitted.

Rotax 912 80hp four stroke engine, composite ground adjustable 3 blade DUC propeller with factory upgraded metal leading edge protection, Electric flaps, a full set of Instruments, including Dynon electronic EFIS (with a second ASI, Altimeter, remote compass and of course an artificial horizon), coolant temp, ASI, Altimeter, compass, voltmeter, hour meter, tacho, and more.

Comes with heavy duty aviation tyres, upgraded main undercarriage legs, alloy wheel rims and more. Strobe light and landing light fitted. Matching wheel fairings included (not fitted), inflight elevator trim fitted. Price on application.

Click for video of our Storch here!

AirSports Flying School
mail@goflying.com.au 0422 446622