GIFT CERTIFICATES
GO FLYING !
It's an adventure, a Trial Instructional Flight (TIF)
from only $225.00 in any AirSports aircraft.


TRIAL FLIGHT GIFT CERTIFICATES

Be the pilot!
Fly in the pilot seat in one of our sport aircraft (with a little help from a flight instructor). A short introduction to flight in an
AirSports
aircraft allows for about
25 min
of time spent flying (engine start to engine stop). A longer trial flight last about
45min
. We will email you a custom gift certificate that is valid for 6 months. Please list the name you would like printed on the gift certificate when you order.

GO FLYING! CERTIFICATE
- $285
A big adventure.

A 45 min Trial Instructional Flight.


The longer flight,
almost twice as long
as our standard gift certificate flight - its better value. We show you how it's done! In suitable conditions fly your aircraft around the stunning Mount Macedon ranges, over to Hanging Rock and past the Romsey vineyards and then the army testing ground and back to Riddell airfield.


"TRIAL FLIGHT CERTIFICATE"
- $225
A little adventure

A 25 min trial instructional Flight

Recommended by the Entertainment Guide using a voucher.

Student training package deal flight training packages are also available see our
COST TO LEARN
page.

Please dress comfortably for the day; no boots (its hard to work the foot pedal controls with them on) and bring your sunglasses. We provide aviation headsets for your flight.


We use PayPal as an online payment system, if that will not work for you please call us on 0422 446622 and we will arrange a Gift Certificate by phone using your credit card.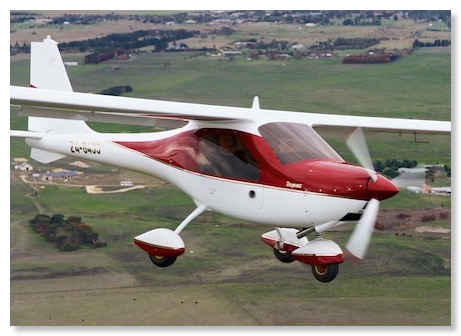 Please accept our invitation to visit our airfield, drive-in or Fly-In, we would be happy to show you around.
When you are ready to make a flight booking, or visit, please call us first on 0422 446622 to make a time.

Fine print : Flyers must be able to understand instructions given in English. No minimum pilot age to take a trial flight however pilots need to be able to safely reach and use the flight controls under the supervision of a flight instructor. The minimum health standard is that required to drive a motor vehicle. Maximum pilot weight limits may apply. Gift certificates are not refundable.


AIRSPORTS FLYING SCHOOL

Australia's first sport/lightweight aircraft business and Australia's oldest sport aviation flight training school.

Email : mail@goflying.com.au
Sunbury Airfield : 0422 446622
Mail : PO Box 125, Lower Plenty, Victoria, 3093, Australia