Airport Windsocks Our windsocks are solid, robust, effective and most sizes are proudly made in Australia. They are ideal for commercial airports, industrial sites, mines, factories, vehicle racetracks, freeway bridges, heliports and marine moorings. Our large and medium windsocks are made from extra heavy duty fabric, they are much stronger and will last up to 50% longer than most other brands of windsocks.

What does the Woomera rocket range, Mt Isa mines, Bundaberg Rum and Melbourne Airport all have in common with each other - they have all used our windsocks!

The standard aviation windsock is large, it's manufactured with the highest quality fabric available, has a 3 foot diameter mouth and is 12 feet long. These windsocks come complete with a flexible lightweight rust proof hoop sewn into the fabric to hold the windsock open and in place when attached to a windsock frame. For airport operations "white" is the primary windsock colour "yellow" is the secondary windsock colour. Manufactured to Civil Aviation Authority recommendations. Don't forget to order a stainless steel windsock frame to mount your windsock (see bottom of page for more info).

AIRPORT WINDSOCKS The standard fabric used on our medium and large windsocks is a heavy duty fabric that is UV stable. The quality is higher so the cost is a little higher. The longer life fabric really does justify the purchase of our windsocks. Standard windsock colour, white or as an option, yellow.

LARGE WINDSOCK - COMMERCIAL AIRPORT SIZE
A full sized 3 foot (910mm) opening, 12 foot long commercial windsock, suitable for airports/freeways/marine applications, made with heavy duty rot proof fabric. Delivery $69.00 most areas, outback locations or international deliveries, please contact us for a delivery price quote. Due to the large packed volume of the windsocks the delivery fee charged by Australia Post is the volume of the package and not the weight.

WINDSOCK - LARGE - HEAVY DUTY
NOW ONLY $269 each.
WINDSOCK - MEDIUM SIZE
HEAVY DUTY model ONLY $185 each.

For small airfield or large Industrial site.

A 2 foot opening (600mm), 8 foot long windsock, for small airfield, helipads, farms, industrial sites. Heavy duty rot proof fabric, hoop sewn into windsock for easy mounting. Light weight duty also available at a lower cost. Australia Post have increased their charges, windsocks are now charged for their size rather than weight, standard registered delivery $35.90 Australia wide. Please contact us for remote area and international delivery prices.

WINDSOCK - MEDIUM SIZE
Heavy duty fabric ONLY $185 each.For airport operations "white" is the primary windsock colour "yellow" is the secondary windsock colour.

SMALL WINDSOCK
IDEAL FOR INDUSTRIAL SITE USE
Medium Duty fabric for longer life - 18" mouth (450mm) x 5' long

A strong windsock that has an 18 inch opening and is 5 foot long. Ideal for industrial and building use or small sport aviation airfields, no hoop sewn into fabric to reduce freight costs. The fabric weight and strength of this windsock is lower than that of the medium and large sized windsocks, it needs to be this way so that our windsocks "fly" correctly.

Your choice, a twin colour, good looking orange and white windsock, it's sewn together in bands for improved visibility. One colour, lower cost, orange or white windsocks are also available in this medium duty fabric. In normal conditions the "medium duty" windsocks will last at least 3 times as long as our "light duty" windsocks. Fabric imported from the USA. Express Pack delivery $18.90.

It's a heavier duty fabric, rated medium duty...

ORANGE or WHITE medium duty windsock, $169 each.
ORANGE and WHITE stripe, twin colour, $192 eachAll our windsocks are rated up to max 30 knots.The calibration wind speed graphic below is for the small, medium duty windsock.



To order is easy, we accept credit cards, Australia Post COD, and we can email you an invoice prior to a sale if needed (please note this will delay the purchase process, payment is still required before dispatch). Please email your request to mail@aeroshop.com.au, or call 0422 -446622. For PayPal credit card or bank transfer orders please use the shopping cart buttons to get started.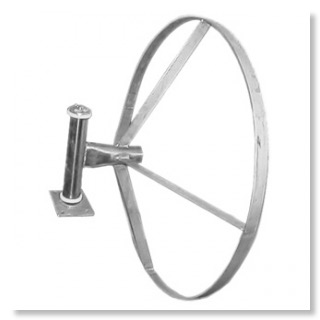 WINDSOCK FRAME
STAINLESS STEEL

If you have a good quality windsock you also need a top quality frame to support the windsock and to allow it to swivel correctly into the wind.

Our solid windsock frames are constructed from industrial grade stainless steel with the design including a "no tangle" stand-off stainless steel hoop. The size of the windsock mouth opening is matched to the stainless steel hoop on the windsock frame for easy mounting. The frame is designed to hold the windsock open and clear of a windsock pole.

Our windsock frames are designed around a vertical stainless steel post with 4 solid welded stand-off steel straps and a steel hoop for attaching the windsock, at the bottom of this post is a horizontal welded mounting plate. This plate is normally connected to a matching plate on the top of a windsock pole. The size of this plate is 100mm long x 75mm wide x 5mm thick, +/- 1mm with the centres between between the four (4) bolt holes being 3 inches on the long side and 2 inches on the short side. It's best to drill the holes in your own mounting plate after you get the frame - just to be on the safe side.

Simple "easy care" rust proof bearing surfaces are standard. At this stage we do not sell windsock poles due to the high delivery cost.

Secure PayPal payment is available, using your credit card, use the order box below (for delivery anywhere in Australia). Contact us direct at mail@aeroshop.com.au or phone 0422 446622 if required. Prepayment with an order is required.

Small windsock frame, 18 inch opening $295
Medium windsock frame, 2 foot opening $385
Large windsock frame, 3 foot opening $435

WINDSOCK FRAME
STAINLESS STEEL
Eastern Australia capital city prices quoted above, we will contact you for an additional freight charges to country/remote areas. Outside Australia delivery charges - please email for a price.

Please phone to arrange a time to visit as our hangar is not always open due to flight training operations away from the airfield. Please note local freight charge still apply for items picked up at AEROSHOP as the windsocks are manufactured interstate. To order please use your credit card and PayPal payment system ( click on the buttons above ) or contact us at AEROSHOP for phone orders at :


0422 446622

AEROSHOP
HANGAR 4 Riddells Creek Airfield
280 Websters Road
Clarkefield Victoria 3430 Australia.

mail@aeroshop.com.au